Hobe Beef Jerky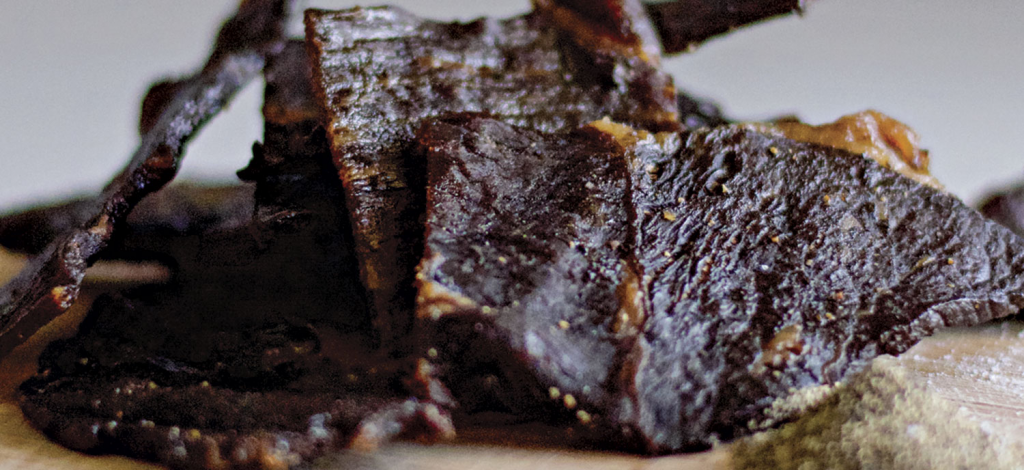 Jerky lovers sojourn to Hobe Meats in Phoenix for some house-made beef jerky.
people generally frequent Hobe Meats for its stunning selection of prime steaks and premium seafood, and the occasional exotic meat (kangaroo, alligator). But some devotees come to the Phoenix butcher shop for one specialty item in particular: house-made beef jerky ($19.95/lb.). "We have an NFL star who drives all the way from New Mexico and stops here every three months just for the beef jerky," manager Linsey Tweed says.
Owner Bret Pont and Tweed, both butchers, produce about 150 pounds of fresh jerky each week. To make the protein-packed snack, they partially freeze bottom round roasts, cut the meat into 1/4-inch thick slices and then submerge the pieces in Hobe's "secret marinade," brewed from a blend of soy and teriyaki sauces. The meat soaks for two to three days and then caramelizes in the dehydrator for 13 hours. "We make the jerky three times a week," Tweed says.
Packaged in unadorned plastic zip-top bags, the finished product is moist and supple, but appropriately chewy – guaranteed to induce flossing. Loaded with bold, beefy flavor, the salty jerky pairs well with an ice-cold pale ale, Tweed suggests.
Pont purchased Hobe Meats in 2008 and has since expanded the space to include a full-service deli. The shop also stocks fresh bread and eggs, raw dog food and a full line of Hobe sauces and marinades.
HOBE MEATS
6044 N. 16th St., Phoenix
602-604-2333
hobemeats.com